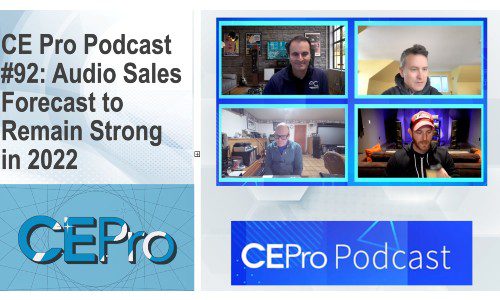 CE Pro Podcast #92: Audio sales forecast to remain strong in 2022
Listen to this podcast using the embedded player below.
CE Pro's Audio Guys note that despite the record year the custom installation market had in 2021, there could be some bumps in the road in 2022 due to ongoing supply chain and shortage issues. of chips.
When Charles Dickens wrote, "It was the best of times, it was the worst of times", in 1859 for his book, A tale of two citieswho knew that in 2022, these words could sum up the state of the custom installation industry and audio sales.
The industry remains in vogue as homeowners crave the latest in home technology, including networking, telecommuting (work from home), home theater, entertainment and whole-home lighting. Despite the growth and trend in the home electronics market, there are some major issues looming over the industry: supply chain and chip shortages.
Our "Audio Guys" joined the latest CE Pro Podcast to talk about trends and challenges in the consumer audio industry. Using the past year as a springboard, Paul Bochner, owner and president of Electronic Concepts in Rochelle Park, NJ, Alex Camara, CEO of AudioControl, and Steve Silberman, business development – audio at Savant, believe that 2022 is shaping up to be another great year for the integration industry and audio sales.
"I don't see any new trends; I just see a continuation of the trend. We were supposed to be all back in the office now and it's just not happening," comments Silberman.
"People want their homes connected more than ever, so the systems are getting more and more refined; they're sleeker, easier to use, and when I look into the [Savant] Salon store in product terms, it's a healthy balance of cost-consciousness and high performance for the money. We're on the move with our premium offerings like JBL Synthesis and now JBL Pro. So I just see more audio making its way into people's homes and the backyard is huge.
Camara emphasizes that acceptance of high-performance systems is not limited to home theater and immersive audio. He says homeowners are now much more willing to spend on whole-home entertainment, including outdoor systems.
"I also think the level of sophistication that people are willing to put into their homes is now way ahead of what it was a year ago. We're not only seeing prices go up for the dealer and the ability to sell high-end projects, but also consumers willing to accept, I think, a lot more direction towards a more sophisticated end, more high-end, higher resolution, more immersive solution, and not just in theater but also in whole house," says Camara.
"I think the days of 'you know, I'm only content with a home theater' upgrades are changing. We get dealers who come to us with not just seven pieces, but 16 pieces to through the house and outdoor space despite the fact that it's winter right now. It's just thriving.
Audio Sales Are Growing, But the Custom Installation Industry Faces Challenges
As audio sales continue to grow across the board for many integrators, there are some troubling factors that may be slowing down the custom installation market.
Global supply chain and chip shortages continue to hold back not just the home electronics industry, but the entire global economy.
Silberman says the Federal Reserve Bank of New York is pricing the global supply chain problem the world is currently experiencing just below peak December (2021) times and there doesn't appear to be an immediate end in view. He also points out that chip shortages and labor issues are also contributing to global economic problems.
Camara reiterates Silberman's comments and notes that it's imperative for manufacturers to manage their parts inventory to keep production moving. He says the AudioControl team is working hard to maintain company supply levels, but it's a lot of work for manufacturers.
In providing a dealer perspective on global economic issues, Bochner recommends that manufacturers maintain honest and open communications with their dealers to help dealers best manage their inventory levels.
"The only thing I could really say is to the manufacturers – and I'm talking to two who get this [AudioControl and Savant]so it's really for you to know someone else watching or listening – do you just need to be upfront with [dealers]. No matter how bad the script is, you have to be honest, you know it's going to be 10 weeks; well, a client might be okay with 10 weeks, but when 15 weeks comes around and it's still five weeks and we hear about it then, that's not good, especially in the area of luxury," suggests Bochner. "Some customers, if you tell them six months in advance, they're going to be like, 'This is the coolest thing ever, I have to wait six months for this amazing product.'
"Honesty is key here, and if you don't want to cut ties with your integrators and you don't want to cut ties with your customers because that's where it's going to end if the honesty part of the whole thing goes good luck.The companies we get by with are the ones that are honest with us and have realistic answers.
To listen to in full CE Pro Podcast conversation, including the latest Audio Guys demo content recommendations, watch or download the episode above. Find past episodes of the CE Pro Podcast by subscribing to the EC Professional YouTube channel or our Apple and Spotify podcast feeds.